Sevala, Bascarsija "stone" during the war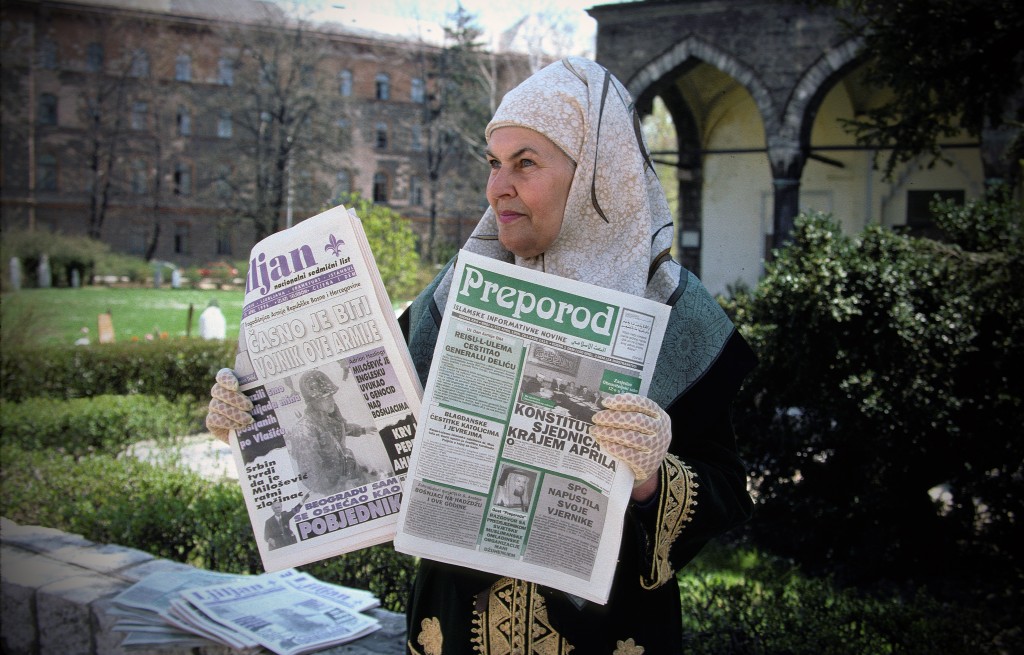 Listen to testimony

From the beginning of my research everyone reacted in front of the photo of the woman who, during the war, dressed in traditional costume and sold newspapers every day in front of the Mosque…
I was assured it would be very easy to meet her, especially in the morning in the pedestrian area.
But after three weeks of searching, she had four different names, was at five different places and more then that, some people thought she had died. By the fourth week of research, when this meeting seemed impossible and I lost the hope of finding her, a girl told me to come in the early morning before the distribution of bread and flour at an assistance centre for underprivileged families. Sevala was there. I had a problem in recognizing her: she was no longer in traditional dress, she was not wearing a headscarf, her skin was not as white as before, she was getting older but still beautiful and her eyes still shining bright. In a trembling voice and point of tears, she spoke to me:
"Thank you, thank you. My name is Sevala. You're the first person in years who has asked my name, who is truly interested in me. I could disappear and nobody would have noticed.
I sold newspapers during and after the war for over fifteen years. I am the "stone" of Bascarsija (the old historic district). The whole city bought newspapers from me, but nobody cared about me. Nobody even asked me anything other than newspapers, nobody offered me a coffee. Everybody knows me but nobody can tell you who I am."
I was moved by these words and I followed her to the small apartment in Novo Sarajevo. In an elevator which was falling apart, we slowly climbed until the sixteenth floor of a dilapidated tower.
"Welcome to Sarajevo, " she exclaimed, pushing the door open to a small apartment still in ruins, which showing obvious signs of conflict. Without money, no water, no electricity!
"Come I'll show you my Yugoslavia."
I did not understand.
Sevala opened a big box from which she displayed her past : her degree in Arabic language, the pictures of her trip to Belgrade, photos of students, her "dear Tito", the soccer club players of the former Yugoslavia but also her precious old Yugoslav passport.